CMC Markets is a leading online financial trading company, offering spread betting and CFDs across major global markets. Today it boasts over 300,000 active clients, thousands of instruments, and an annual trade volume of 87.8 million. However, this CMC review is here to break down its offering, looking at the trading platform, accounts, fees, market hours, and more.
A Brief History
The first part of this CMC review takes a look at their rise to global success. The company was founded in 1989 by Peter Cruddas. At this time it was a foreign exchange market maker, under the name Currency Management Corporation.
By 1996, the company had launched a real-time forex trading platform and claimed to have made the first ever online FX deal, thanks to their MarketMaker software.
2000 saw the introduction of CFD trading at CMC. The year after spread betting on financial markets was available. These two financial products were to form the core of CMC's business in the future.
From the turn of the century, CMC embarked on an ambitious global expansion. This started with offices in Sydney, Australia. Offices in New York were then opened in 2003 and Toronto in 2005. 2007 then saw Goldman Sachs buy a 10% stake in the company for £140 million.
The 2008 financial crisis saw the company take a significant hit in earnings. As a result, Peter Cruddas closed seven offices, substantially reduced employee numbers and changed his management team.
In 2010, CMC launched its new trading platform – 'Next Generation'. This introduced new features, such as the ability to quote markets priced to additional decimal points and provide trade execution without re-quotes.
July 2015 saw CMC break into the binary options market. By April of the following year, CMC introduced a range of binary products specifically designed for mobile, tablet, and desktop. This product has now been discontinued.
Recent years have seen the online brokerage expand its customer base and increase its range of products and tools, some of which will be discussed in more detail below.
Minimum Initial Deposit
CMC do not require a minimum deposit. A trader will obviously need the required margin in their account in order to open a position, but an account can be opened with any level of initial deposit. It is a clear plus for a broker of this calibre to operate with such flexibility.
Spreads & Commissions
CMC offers attractive minimum spreads for popular products. For example, 0.7 of a point for the EUR/USD and USD/JPY, plus 1 point for the UK's FTSE 100 and Germany's Dax 40. Overall, you can expect typical spreads of 0.8 pips.
This means CMC trading costs are competitive when compared to the likes of IG and Plus500.
Traders can also sign up for the Forex Active solution from CMC Markets. This account offers zero-pip spreads on six currency pairs: EUR/USD, GBP/USD, AUD/USD, NZD/USD, USD/CAD, and USD/JPY. Users also benefit from fixed commissions at $2.50 per $100,000. Overall, clients can benefit from fee discounts of up to 25%.
Leverage
Leverage is an important element in forex trading. It ensures you only need a small initial deposit or margin to enter a trade. CMC day trading forums have been quick to highlight generous leverage offerings. Margins start at just 3.34%, which means leverage of 30:1.
In fact, CMC offers five tiers of margin, depending on your overall net position per instrument. This tier-margin approach based on position size is similar to that used by Saxo Bank.
However, it's important to note that while trading on leverage may increase your potential profit, it can also amplify losses.
Other Trading Fees
CMC does not spring a range of additional costs on traders. In fact, their fee structure is relatively transparent.
Having said that, with certain position thresholds, which vary depending on the instrument you trade, CMC offers a guaranteed stop-loss order (GSLO). However, there is a premium for using this service, which is refunded in full if the GSLO is not triggered.
The guaranteed stop loss order also affects the prime margin. This is the specified risk in the guaranteed stop loss order, based on the chosen rate.
Overall, CMC share and trading fees are around industry standard.
CMC Trading Platform
Before we review the CMC trading platform, what precisely can you trade on their software?
CMC offer over 11,500 instruments:
Over 300 global currencies
Major global indices
Commodities, including gold, silver, and oil
9,500+ shares from 23 countries (CFDs)
Gilts, bonds and treasury notes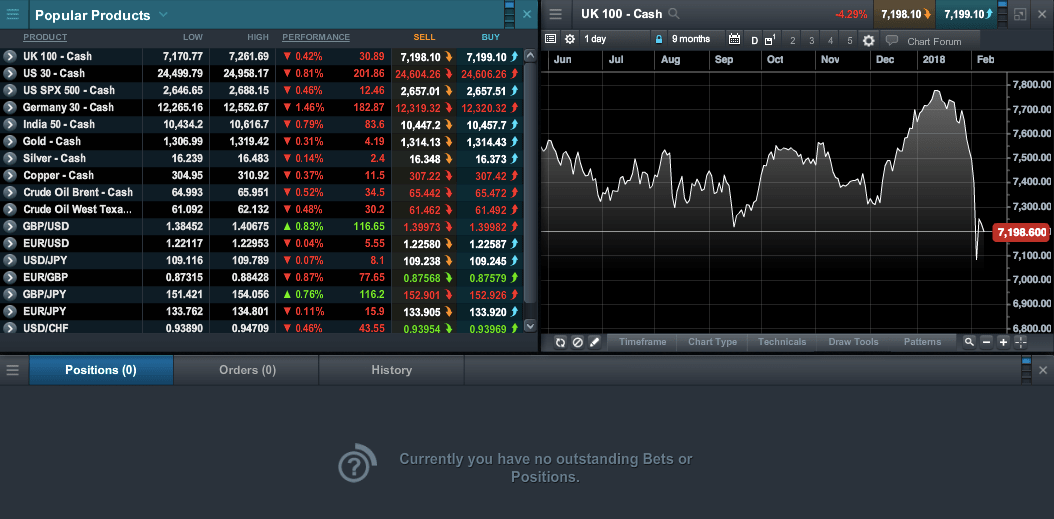 Features
Firstly, reviews of the CMC Next Generation web platform are fairly positive. It can be straightforwardly accessed from any html5 web browser. Users have been impressed with the sleek interface and easy-to-navigate platform.
Another benefit that is highlighted is the customisability on offer. While the trade ticket design is simple, you can expand it to add stops and limits, plus to see the depth of book pricing. In addition, when in the trade ticket window, flicking between order types is straightforward.
You will find the estimated margin at the bottom of the trade ticket window, depending on trade size and margin requirement for your specific product.
On top of that, deciding between normal stop-loss, trailing stop, and guaranteed stop-loss orders (GSLO) is easy.
Linking
Linking is another exclusive feature worth mentioning. This allows you to connect a number of windows on the layout. This results in any change in one module being updated across the other linked modules with relevant data for the same instrument.
CMC Chart Trading
Charting on the bespoke Next Generation platform is powerful. You have access to 115 technical indicators. You can also add studies to each chart. In fact, when you compare the CMC offering to other brokers, you will often find others provide just a few dozen technical indicators.
In addition, you have a number of option sections that can be swiftly accessed from the bottom of each chart window:
Chart type
Draw tools
Timeframe
Patterns
Pattern Recognition
Another useful feature on the CMC trading platform is Pattern Recognition. This gives traders a number of options for trading and analysing price action. The result of this is an ability to develop and implement sophisticated strategies.
You will also get access to the client sentiment indicator. This shows the sentiment of the firm's collective client exposure, including both buys and sells for each instrument.
To add to your trade arsenal, the external source CMC Trading Central provides in-depth investment and research analysis. This can help you accurately evaluate price data and hone your strategy.
Platform Verdict
When you compare CMC vs Trading 212, IG or ETX Capital and other competitors, users get virtually all the same features and a number of exclusive add-ons.
Mobile Apps
CMC trading software also extends to mobile and tablet apps. In fact, their spread betting and CFD trading apps have, like the desktop platform, also won awards. You can benefit from full order ticket functionality. The app is available for download via the website or app stores.
Not to mention mobile-optimised charting, plus over 40 technical indicators, signals and trade tools.
A useful tip is to rotate your phone to horizontal mode, this makes conducting chart customisations far easier. Drawing trend-lines, plus zooming in and out is also cleaner.
The default screen when you log in can be customised in settings, or auto-select will show open positions. The iPhone mobile trading app provides live streaming prices, charts, and pending order executions. It also shows Reuters news feeds as well as displaying the client sentiment indicator.
Overall, CMC mobile phone trading allows for a smooth transition from their desktop-based platform, maintaining the same look and feel. Applications are sleek and easy-to-navigate, while you retain all the features needed for live trading.
You can also find a range of CMC trading videos on their official website that will help walk you through getting the most of their iOS and Android apps.
Methods of Payment
CMC user reviews have highlighted deposit and withdrawal methods are fairly industry standard, regardless of whether you are currency, stock, or commodity trading.
You can make payments with any major credit and debit card. They accept 10 different forms of currency for deposits. Alternatively, you can make live wire transfers.
However, to stay in line with international banking law, you may be required to hand over personal ID data and banking information. Without these documents, withdrawal requests will not be processed.
On top of that, telephone verification may also be required. This is a measure taken to ensure security.
CMC Accounts
Before you can develop a CMC day trading strategy, you will need to open an account. The trading brokerage offers two account types, spread betting (UK & Ireland only) and CFD trading.
CMC offers these accounts to both individual corporate clients. Accounts are actually surprisingly similar.
You can choose from:
11,500+ instruments
60+ global indices
300+ currency pairs
90+ commodities
30+ treasuries and bonds
9,500+ shares
30+ share baskets
1,000+ ETFs
With both account types, you also get account netting, telephone trading, position hedging, plus a price depth ladder. Overall you get nearly all the same functionality and features with all of the CMC trading accounts.
Forex Active
CMC Markets also offers a Forex Active solution. This is a good option for high volume forex traders looking for competitive costs. Zero-pip spreads are available on six major currency pairs alongside fixed commissions at $2.50 per $100,000. 330 pairs are available on the CMC Markets proprietary platform while 175 are offered on MetaTrader 4.
Clients can sign up for the Forex Active account on the broker's site and will need to complete a straightforward application form.
Alpha
CMC Markets also launched its Alpha scheme in 2022 where members benefit from a string of exclusive perks. Participants can access reduced spreads from 5% to 28.6% using the tiered-volume discount scheme. Traders also receive priority support from the London-based customer service team. In addition, Alpha members receive invites to exclusive webinars and events hosted by trading experts.
Clients can enrol in the Alpha scheme by opening a standard spread betting or CFD account and depositing or maintaining an account balance of at least £25,000. Prospective members will then receive an invite by email, along with a complimentary subscription to the Financial Times. The Alpha scheme is a great option for high-volume traders.
Demo Account
You can also get a CMC trading platform demo account. Platform reviews of the practice account are mostly positive. You can benefit from all of the following:
Powerful charting and trade tools
Available to use on mobile and tablet apps
Up to £10,000 in virtual cash
Can be used for an unlimited time
Quick and easy set up with instant approval
No credit or debit card information required

You can tell the same careful CMC engineering has been applied to the virtual trade offering as the live trading. The brokerage allows you to spread bet or trade CFDs on forex, index and commodity instruments, plus treasuries, ETFs, and shares for up to a calendar month, depending on when you open the demo account.
So, for beginners or those looking to get familiar trading with CMC and the markets, their demo account is well worth exploring.
Additional Features
There are a number of useful additional features that sweeten the CMC trade deal. The Market Calendar window gives a countdown to when each economic news event is expected to be released.
It also allows traders to subscribe to specific events. You will then be automatically notified when the news release time draws near. This is fantastic for helping you prepare for major events.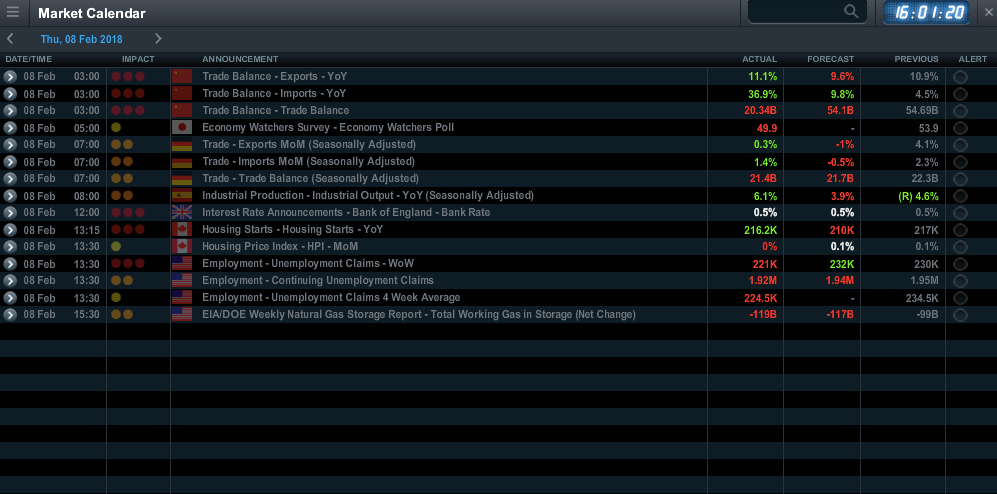 CMC's research offering is also comprehensive. You get to benefit from:
Global analysts
Insight News
CMC Markets Blog
CMC TV
Social media channels
Safety & Security
Under the FCA's Client Money rules, CMC is required to segregate client money from its own funds (unless agreed otherwise between the investor and CMC). The funds held in segregated bank accounts do not belong to CMC and will be held in a way that enables it to be identified as client money. Learn more about client money regulations.
You can also relax in the knowledge that when you receive your trading platform login details, all personal information and transaction data will be kept secure, using sophisticated encryption technology.
CMC Regulation & License
In today's world of online trading, broker regulation is important to look out for. This ensures companies will have to adhere to certain rules and protect your capital in a number of scenarios.
CMC now has over 300,000 active clients globally, 13 global offices, and is regulated in the UK, Germany, Canada and Australia. CMC also has a derivatives issuer license in New Zealand.
Eligible deposits with CMC Markets are protected up to a total of £85,000 by the Financial Services Compensations Scheme (FSCS), the UK's deposit guarantee scheme. More information about FSCS is available here.
Benefits
CMC reviews are quick to point out a number of significant benefits:
Access to over 12,000+ CFD instruments allows for speculating on everything from forex to equities and gold.
CMC promises truly global trading, attracting customers from Dubai to Germany.
CMC is regulated in a number of major financial centres and listed publicly in the UK.
A number of awards have been given to their business, recognising their platform, educational materials and customer service.
No minimum deposit is required.
Alpha scheme with exclusive perks and discounts.
They offer low prices, including tight spreads and leverage, with margin requirements as low as 3.34%.
You will find high levels of customisability on their desktop and mobile platforms.
They promise a range of sophisticated trading tools, including client sentiment, pattern recognition, analytic insights, chart forums, price alerts, and more.
They provide an in-depth learning academy, with help in the form of webinar tutorials, videos, courses, and written resources.
A free and fully functioning demo account is available.
They provide a chart forum, where users can share ideas and help each other.
Signature share baskets that track a selection of stocks with a similar price trajectory.
Drawbacks
Despite the number of benefits outlined above, CMC trading platform reviews have highlighted a number of downsides:
The Next Generation platform does not facilitate automated trading, however CMC Markets' clients can also trade on MT4. Algorithmic trading represents an increasingly popular way to invest.
Trading Hours
CMC's trading hours and times are fairly industry standard. For example, CMC UK trading hours run between Sunday 21:00 to Friday 22:00 for currency pairs and indices.
However, specific trading hours can change. So, for example, if you want to know CMC's Easter holiday trading hours or Singapore trading hours, the platform will have show the correct trading times for each instrument, in the 'product overview' menu.
Contact & Customer Support
CMC user reviews show high levels of satisfaction with the customer support. You can access the live chat from within the platform and on the company's website.
They are trained to deal with account queries or technical issues, including if you have forgotten your trading pin. They will even point you towards trading platform tutorials and other useful learning resources.
In some respects, their live chat offering is better than competitors. For example, Saxo Bank only offers live chat support for users with over $100,000 in their account. However, brokers such as Plus500 will offer live chat on both their platform and website.
You can also contact CMC via phone. Their website claims 98% of calls will be answered in under 20 seconds. User reviews show staff are both courteous and helpful.
There is also an option to email customer support. On top of that, help can be found in the form of quick start guides, platform tours, and even live trader events.
CMC Markets commitment to international trading is also demonstrated by the fact they offer support in all the following languages:
English
German
French
Spanish
Italian
Polish
Swedish
Norwegian
Overall, CMC Markets scored highly in terms of contact and customer support, as their BrokerNotes double AA support rating demonstrates.
Verdict
To conclude, for those interested in spread betting, CFD trading and forex, CMC Markets is a sensible choice. The Next Generation platform is powerful and versatile, while the mobile apps are high quality.
In addition, CMC trading charges are competitive and with over 11,500 instruments to choose from, there is something for traders of all experience levels. Finally, as reviews of CMC online trading accounts are quick to highlight, there are no minimum deposit requirements.
Accepted Countries
CMC Markets only accepts traders from United Kingdom, Ireland, France, Spain, Italy, Norway, Sweden, Germany, Austria, Canada, Australia, New Zealand, Singapore, Denmark.