Overview
HYCM company is a division of Henyep Group. It has been trading on the Forex market for over 40 years. The broker has earned 15 awards since it commenced trading. Among these awards, broker has won the Best Forex Broker Award in 2019 and Best Mobile Trading Platform by World Finance in 2017. The company provides services to both private and institutional traders. It offers a wide selection of trading tools allowing traders to trade currency, precious metals, securities, cryptocurrency, etc.
Trading Asset
We learned that HYCM specializes in providing trading services and offers a wide range of over 300 different financial instruments to trade with access to Forex, metals such as gold and silver, energy products like oil and gas, commodities, indices, and stocks. Also, HYCM constantly improves its range of instruments and now offers a wide selection of Cryptocurrencies.
HYCM Markets Range Score is 8.9 out of 10 for wide trading instrument selection among Forex, Metals, Indices, Cryptos, and more.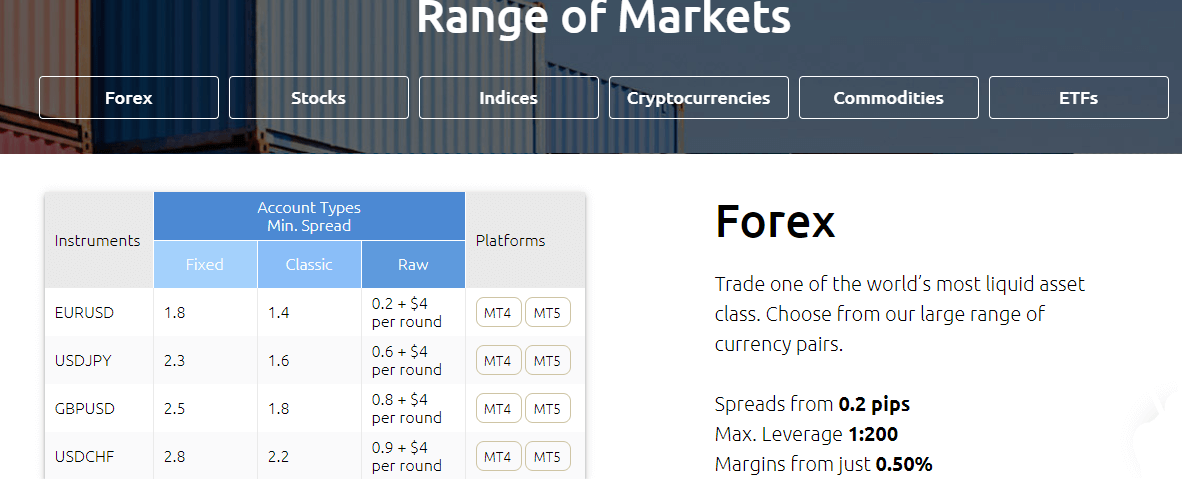 Trading Platform
We learned, as a leading financial services provider, it offers its traders advanced trading platforms. They also gave its preference and reliability to the popular MetaTrader 4 platform and has made it the mainstay, yet you always can choose a new version of Metatrader5.
Web Trading Platform
MetaTrader 4, which is an industry-leading software is loved for many reasons, but mainly for its ease of use and comprehensive features. Web Platform is a great choice due to its easy access via any browser and does not require any installation or specific settings.
The only gap could be a limited number of tools and drawing applications available via Web Version so for a more comprehensive analysis you better choose desktop MT4.
Desktop Platform
Nevertheless, professional and day trading traders would need a desktop platform which is a full version of the MT4 or MT5 platform offering a maximum of its trading capabilities.
Moreover, MT4 is suitable for beginner traders and includes security and 24-hour support, automated trading capability, integrated technical analysis tools, and indicators, streaming market news, personal VIP dealer services, expert advisors, and many more.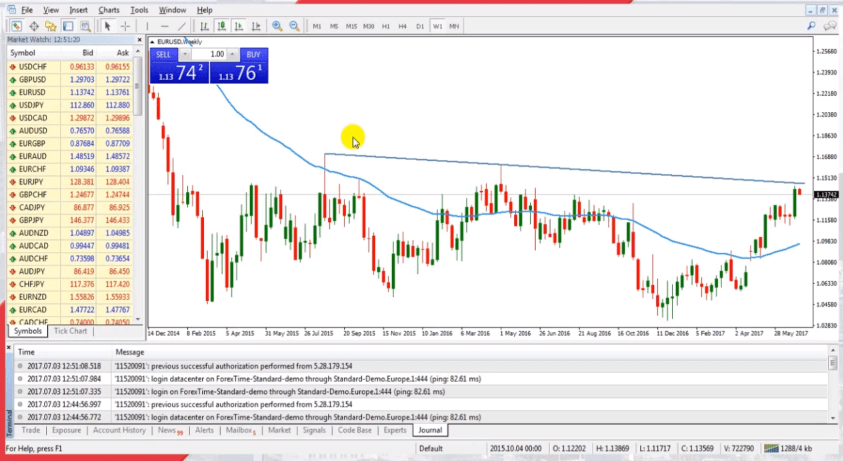 Mobile Platform
We found that HYCM has also a HYCM Trader mobile app, for traders who prefer to trade on the go, which allows trading at any time and anywhere. HYCM Trader is available on both Google Play and the App Store (all you have to do is search HYCM).
Trading account
At HYCM, investors can register to open one of the following three account types: Fixed, Classic and Raw.
Fixed and Classic accounts are two types of accounts suitable for new investors, with little capital, not much experience in the market and can trade with small volumes. The main difference between these two accounts is the spread. Fixed accounts apply fixed spreads, while Classic accounts trade with floating spreads.
Raw account : This account is for experienced, large capital traders, trading commissions but in return the spread is the lowest.
Compare a few fundamentally different trading conditions on the 3 account types:
| | | | |
| --- | --- | --- | --- |
| Trading conditions | Fixed | Classic | Raw |
| Minimum deposit | 100$ | 100$ | 200$ |
| Commission | No | No | Yes |
| Spread ( from Forex ) | 1.8 pips | 1.4 pips | 0.2 pips |
| Maximum leverage | 1: 200 | 1: 200 | 1: 200 |
| EA's allow transactions | Không | Có | Có |
| Minimum order volume | 0.01 | 0.01 | 0.01 |
Fees
Based on our Expert research, HYCM fees will vary according to the account type you select or trade, so see which one is suitable for your trading style.
You should consider the HYCM overnight fee or a swap rate. The fee originally varies from one currency to another, for example, EUR/USD buy order will equal -3.25%, while selling will add 1.25% respectively.
Also, what you should also consider is an inactivity fee, meaning HYCM will charge $10 per month in case the trading account has no activity for a certain time.
HYCM Fees are ranked average with an overall rating of 8.9 out of 10 based on our testing and compared to over 500 other brokers. Fees might be different based on entity offering, see our findings of fees and pricing in the table below, however, HYCM overall fees are considered good.
Spreads
We found that HYCM Spread depends on the account type. Fixed spread conditions offer a slightly higher spread but with stability under any circumstances. While Classic Accounts with variable spreads will include lower spreads that are changing according to volatility and market conditions. Lastly, Raw spread is a choice for mainly professional traders as trading fees inbuilt into the commission per round, which is $4.
Besides, there are Islamic trading accounts available for traders with no adjustments.
HYCM Spreads are ranked low with an overall rating of 8.5 out of 10 based on our testing comparison to other brokers. We found Forex spread much lower than the industry average, and spreads for other instruments are very attractive too.
Leverage
Based on our findings, HYCM leverage actually, depends on which regulation and jurisdiction the trading account complies with. Meaning each jurisdiction falls under particular rules and laws, therefore depending on your residence various leverage levels and trading conditions likewise are applicable.
1:500 for Dubai and CIMA accounts
1:30 for the UK and European traders
The high leverage up to 1:500 opens the path to the smaller retail traders, as a quite small initial deposit will cover margins, yet this level is allowed only for Dubai accounts and those that comply with CIMA (Cayman Islands).
The rest and the majority of HYCM accounts will fall under European ESMA regulation, which recently limited leverage to a maximum of 1:30 for Forex instruments.
Payment Methods
Deposit and withdrawal methods
HYCM provides investors with a number of popular deposit and withdrawal methods such as wire transfer, Visa/Master cards and e-wallets such as Neteller, Skrill and WebMoney.
Recharge
The minimum deposit for the first time is $ 100, the next time only from $ 20, Wire transfer alone is $ 250.
HYCM does not charge a fee when making a deposit, however fees may arise from the investor's bank.
Deposit processing time is usually 1 hour, especially for Wire transfer, it is from 1-7 days.
Withdraw money
The minimum withdrawal amount for Wire transfer is 300$, the remaining forms are only from 20$.
Withdrawals via Wire transfer under 300$ will be charged, the remaining methods are not charged when withdrawing, Neteller and Skrill alone will be charged 1% for withdrawals over 5,000$.
Withdrawal processing time is usually 1 hour, especially Wire transfer is from 1 to 5 working days.
HYCM offers a few different routes that customers can use to contact its support team. Assistance is available in a number of languages, which can be especially beneficial if your 1st language isn't English.
Live chat: To contact HYCM using the live chat feature, visit HYCM's website and click on the button labeled "Live Chat" in the top right-hand corner of the screen.
By phone: To contact HYCM by phone, call +442-08-816-7812.
Via WhatsApp: To contact customer service via WhatsApp, send a message to +357-972-5968.
By email: To contact HYCM via email, send a message to support@hycm.com.
Conclusion
Concluding the review, we admit a strong and very reliable company in the financial market. The time-timed broker offers professional services to the traders while highly regulated and regarded by traders as well. Small retail traders can find their way to open a live trading account, as a very small deposit of only $100 allows so. Beginners are most welcome to the company too, with a quality customer support team and good education or research.
FAQ's
Can I try HYCM?
HYCM offer a demo account so you can try the HYCM platform with virtual trading before you put down a payment. Virtual trading with HYCM is zero risk.
Is HYCM trading good?
HYCM is considered good and reputable to trade with . It is used by over 10,000 traders and users. HYCM offers Forex trading, and CFDs trading. Minimum deposit with HYCM is 100.
How long do HYCM withdrawals take?
Withdrawing money from HYCM processing time varies depending on the method but averages 2-5 days.
Is HYCM a market maker?
HYCM is a market maker. Stocks, currency and other commodities and instruments will be purchased by HYCM even if no buyer is lined up.