Markets.com is an online forex and CFD broker. Users can choose between several platforms and a range of instruments while trading with a broker regulated in multiple jurisdictions. This review of Markets.com will cover the broker's benefits and drawbacks, including trading fees, mobile apps and demo accounts, before concluding with a final verdict.
Markets.com History
Markets.com began serving retail traders in 2008. Following a string of high profile partners, including Arsenal FC, plus a CEO committed to using technology to improving the user experience, the broker has earned a strong reputation.
Products
The broker offers a range of assets and markets:
67 forex major, minor and exotic currency pairs
2,000 shares on major global companies
40 major stock indices
25 cryptocurrency, including Bitcoin, Litecoin, Ethereum and Ripple
28 commodities, including metals and energies
13 stock blends of large companies
66 ETFs
4 bonds
Spread betting (UK residents only)
Note, futures and binary options are not available, and cryptocurrency CFDs are not offered to retail clients that reside in the United Kingdom.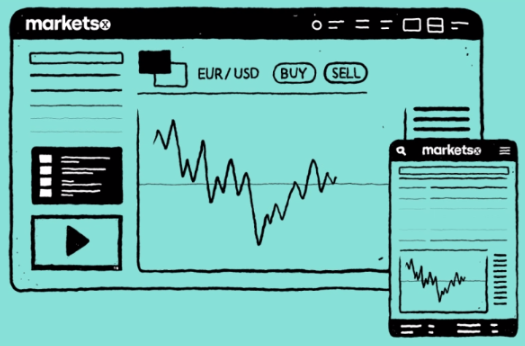 Markets.com Commissions & Spreads
Spreads at Markets.com are very competitive. The average spreads for the EUR/USD (0.7) and GBP/USD (1.3 pips) are very good for example. Note that exact spreads will vary based on numerous factors.
Markets.com no longer charges commission, but may charge a daily rollover fee for positions held overnight (which is standard practise).
Also, slippage, the difference between the expected price and the price at execution, can move against a trader, especially during periods of high volatility.
There are also inactivity fees where an account is unused for considerable time – full terms and conditions are on the website.
Leverage
Markets.com does offer leveraged trading. The amount of leverage offered to EU traders was severely limited during the summer of 2018 by the European Securities and Markets Authority (ESMA).
With that in mind, leverage levels for traders from the UK and Europe go up to 30:1 while in Africa and elsewhere the maximum leverage available climbs to 300:1.
ASIC in Australia also recently capped leverage to a maximum of 1:30.
Leverage allows traders to open positions with a value in excess of their account balance. This does, however, increase the risk and reward in each trade, and as such, the European regulator decided to limit the amount of leverage available to retail traders.
With that said, professional traders can still request and arrange higher leverage.
Note maximum leverage will depend on your account type and instrument. Cryptocurrencies will generally have low levels of leverage, whereas more liquid and less volatile assets such as popular forex pairs, can see higher leverage levels.
Markets.com does send traders a notification if leverage levels drops below 70%, before receiving a margin call. The broker also reserves the right to close out positions should leverage fall below 50%.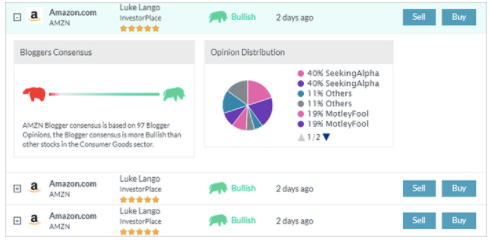 Markets.com Bonuses & Promotions
Bonuses do vary depending on which country you are registering an account from, with users from the UK and Europe unable to claim promotions due to regulatory conditions.
Bonus terms usually come with volume requirements and a restriction on bonus withdrawals.
Details of sign-up bonuses and refer-a-friend schemes are visible when you open a new account or via the Markets.com live chat service.
Markets.com Trading Platforms
Markets.com offers its own proprietary trading platform – Markets.com –  Trader feedback is mostly positive.
The platform is web-based and easily accessible if you have an internet connection. The user interface is simple and clean, while still offering advanced charting and technical analysis tools.
The platform also comes with a range of technical indicators to enhance chart analysis.
The Markets.com platform also comes with 14 trading tools.
This includes market insights from 50,000 bloggers, a Hedge Funds Confidence tool that uses SEC data, plus an Insiders Trades feature that flags increases and decreases in the shareholdings of over 36,000 companies.
A unique feature of the platform is also its trading cubes. This allows you to view numerous instruments at once, helping to streamline the trading process.
On top of a range of forex signals and everything you need for Fibonacci trading or scalping techniques, you also get a real-time news feed. This ensures you can monitor and react to the markets with ease.
Head over to the official website for video tutorials on how it all works and getting the most out of your platform.
MetaTrader 4 & 5
Markets.com users also have the option of the industry-standard MetaTrader 4 (MT4) and MetaTrader 5 (MT5) systems. The download for both is available for Mac and PC users.
Once you have your MT4 or MT5 login details you will have access to a powerful platform that offers advanced charts and in-depth analysis. A long list of custom indicators will also be at your disposal.
On top of that, you get sophisticated real-time trading tools and rapid execution speeds. The MetaTrader system is also easy to set up and there is a wealth of resources online to support you.
Mobile Apps
Markets.com mobile app reviews are mostly positive. Firstly, there is an app for Android and iOS users. The app download is quick and on-boarding takes just a few minutes once you have your mobile login details.
You still get access to the diverse product list, allowing you to speculate on everything from oil to penny stocks.
Both iOS and APK apps are also powerful and packed full of charts and technical analysis tools. You also have numerous risk management features, including:
Stop loss
Take profit
Entry limit
Entry stop
Overall, the app is good, promising a straightforward transition from the desktop-based applications. However, it's worth noting the app doesn't offer the following tools found on the web platform:
There are no alerts
You can't access the news
You can't add indicators to your charts
As a result, those who do a lot of trading from their mobile may want to consider how to replicate those missing elements, if required.
Deposits & Withdrawals
Deposit methods at Markets.com are:
Debit & credit cards – Available everywhere
Bank wire transfer – Available everywhere
Skrill/Neteller – Not available in the UK
PayPal – Available in Europe only
Ideal – Available in Europe only
Sofort – Available in Europe only
Note you cannot fund your account with Bitcoin Cash. There is no fee for making deposits and the minimum deposit is 100 of your base currency.
This is low, making Markets.com an attractive proposition for new traders with limited capital.
To comply with money laundering laws, withdrawals must first be made via the initial deposit method. Customer reviews were pleased to see there are zero costs for withdrawing funds. However, there are minimum withdrawal requirements:
Bank Transfer – 100 USD/EUR/GBP (20 EUR within the EU)
Credit/Debit card – 10 USD/EUR/GBP
Skrill/Neteller – 5 USD/EUR/GBP
PayPal – 10 USD/EUR/GBP
Average withdrawal times vary depending on the payment method, with bank transfers taking between two and five days while credit cards take up to seven working days.
Fortunately, this means if the market moves your way and you collect on 80 pips, withdrawing your balance will be quick and easy.
Markets.com Accounts
When it comes to registration, the account types available at Markets.com are:
Retail – This is the standard live trading account that most users sign up for. The retail account gets you access to over 2200 tradable assets when trading CFDs.
Professional – This is for professionals investing over $500,000. Additional leverage is available with a professional account.
An Islamic-friendly account that operates in line with the Islamic Sharia Principle of interest-free trading is also available. For all accounts, the sign-up process is quick with traders from the UK, Europe and Australia also able to use electronic verification.
All accounts have access to the Live chat support option.
Demo Account
Markets.com does offer a free demo account. Funded with simulated money, their practice account is a fantastic opportunity to test drive a platform and explore intraday trading.
Then once you are comfortable with various tools and have built an effective strategy, you can open a live trading account. Both demo and live accounts can be open at the same time – this allows for strategies to be trialled and tested alongside real money trading.
Additional Features
Markets.com offers a number of additional resources and research materials. Head to the Learn portal and you can find tools and industry commentary on a range of markets and asset types:
XRay – Real-time financial opinions on news of company dividends, for example
Acuity News Alerts – Top line figures on how news activity from the likes of Bloomberg is affecting the markets
Trends In Trading – Analyses every trade, painting a picture of market sentiment
Webinars – Free training and tips from industry experts
All of the features above can help you learn how to trade, from spotting potential opportunities to conducting in-depth market analysis. Once account verification is complete, you can access most of these tools from within your platform.
User reviews of Markets.com did point out, however, that the broker could do more in terms of social trading. There are no chat rooms or forums where traders can exchange ideas and have concepts explained.
Also, copy trading isn't available, which would allow beginners to replicate the trades of successful and experienced traders. Finally, automated trading isn't an option at Markets.com. The broker does not have APIs or offer any sort of trading algorithms and EAs.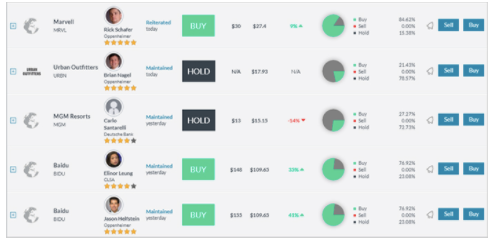 Regulations & Licenses
With an increase in the number of fake and fraudulent brokers around, finding one you can trust is important.
Fortunately, Markets.com holds licenses with several respected regulatory bodies, including the UK Financial Conduct Authority (FCA) and the Cyprus Securities and Exchange Commission (CySEC).
This should put customers from the UK, France, Spain and the rest of the Eurozone at ease. Markets.com is also regulated by the Australian Securities and Investment Commission (ASIC), the BVI Financial Services Commission (FSC), and South Africa's Financial Sector Conduct Authority (FSCA).
The multiple licenses Markets.com holds is a promising sign the broker is legitimate and that standard client protection protocols are in place, including segregating client capital from broker's cash, plus compensation should the broker go under.
Note, the amount of protection under financial services compensation schemes varies between regulators, for example, it is up to €20,000 under the CySEC and £85,000 with the FCA.
Markets.com also offer negative balance protection, meaning you cannot lose more than your initial deposit. This also means, however, that traders must keep a healthy balance in their account, or trades may be closed if prices move against them. Stop losses are another valuable way to manage risk.
Benefits
User reviews show Markets.com scores particularly well in several areas, including:
Product choice – 2200+ assets available
Platforms – Selection of trading platforms, including the Markets.com platform, MT4, MT5 and mobile trading.
Regulation – Far-reaching regulatory oversight ensures users can trade with confidence from London and Madrid to Gibraltar and Vietnam
Payment fees – It is free to deposit funds into your Markets.com account and to withdraw profits

Drawbacks
There are also some bad Markets.com reviews. Most complaints centre around:
No weekend support – Many day traders have to fit their trading around other commitments. But unfortunately, should there be a problem, weekend traders will not have access to any phone support.
Complex navigation – Ease of use is a frequent review issue. Navigating across the Markets.com system is unnecessarily fiddly and detracts from the overall user experience. Brands such as AvaTrade and Plus500 may score better here.
No automated trading – The lack of automated trading may be a deal-breaker for many. And if you take Markets.com vs eToro, for example, automated strategies can be easily implemented at eToro to increase efficiencies and potential returns.
Accessibility – Markets.com has opened its doors to traders from many countries, including the UK and most nations within the Eurozone. However, you cannot open an account if you are a citizen of the US, Canada, Belgium, Japan, or India. Reviews will continue to improve as the broker's head office opens its doors to more nations.
Markets.com Trading Hours
The broker's opening and trading hours are fairly industry standard. For example, all major FX pairs will be available from Sunday 22:05 GMT through until 21:55 Friday GMT.
Note Markets.com will be closed for trading during certain holiday periods. See the official website for a break down of both instrument-specific opening times and holiday hours.
Customer Support
Customer support is available in over 10 languages, 24/5. You can get in touch via email, telephone, live chat, or through an online query form.
We'd recommend using the markets.com live chat support for a fast response as wait times are usually less than a minute. The query form and telephone support number for your respective area can be found on the 'Contact Us' page.
Customer service agents can help with a whole host of issues, from why a platform's not working to helping traders understand why an order was rejected.
Markets.com also houses an extensive support centre and FAQ section where users can find answers. Available are user guides, training videos, or even just simple instructions on how to delete an account.
The only major drawback is that customer support isn't available on the weekend, which may deter some users.
Safety & Security
Customer reviews highlight the multiple measures taken by Markets.com to ensure client security. Protocols include robust firewalls, SSL technology and advanced encryption. These measures should put prospective customers at ease that their data and information is safe at Markets.com.
Markets.com Verdict
Overall, Markets.com delivers an optimal trading experience to its customers.
Traders get a range of assets and tools, excellent customer service (live chat being particularly effective), plus reputable regulatory oversight.
On top of that, the low minimum deposit ensures Markets.com is a worthwhile choice for both beginners and veteran traders.
Accepted Countries
Markets.com accepts traders from Australia, Thailand, United Kingdom, South Africa, France, Germany, Norway, Sweden, Italy, Denmark, United Arab Emirates, Saudi Arabia, Kuwait, Luxembourg, Qatar and most other countries.
Traders can not use Markets.com from Russian Federation, Brazil, Japan, United States, Canada, Belgium, Israel, Turkey, New Zealand, Syria, Iran, Iraq, Hong Kong, Puerto Rico, Singapore, India.