The North American Derivatives Exchange, Nadex, is a US-based exchange providing powerful trading tools and advanced features to traders of all experience levels. Nadex is not a brokerage, but a CFTC-regulated exchange. The company focuses on trading in binary options, Knock-outs™ and call spreads on the most popular traded commodities, forex and stock indices. This 2022 review of Nadex's services will evaluate all elements of their offering, including fees and pricing, demo accounts, educational classes, signals services and trading software, including NadexGO – the new mobile platform.
Company Details
Before looking at the potential for trading returns, it can help to understand how Nadex has evolved into the leading exchange and binary options provider of its kind.
The exchange was launched in 2004 and was originally known as "HedgeStreet". The objective at that point was to create an electronic marketplace that facilitated trading in financial derivatives to retail investors. However, by 2007 HedgeStreet closed its doors. UK-based IG Group Holdings Plc. purchased the company and in 2009 HedgeStreet was re-branded the North American Derivatives Exchange (Nadex), with sophisticated new technology and instruments.
Nadex was acquired and became a part of the Crypto.com global brand in 2022, with headquarters located in Chicago, North America. The company is regulated by the Commodity Futures Trading Commission (CFTC) and accepts clients from 40+ countries worldwide. Today, the exchange executes over 10,000 hourly, daily and weekly contracts five days a week via mobile and desktop platforms.
Nadex Trading Platform
The Nadex trading software consists of a proprietary trading platform. The terminal can be accessed via desktop devices or via mobile app. Traders benefit from a dynamic and robust suite of charts and tools so you can invest funds in a way that suits you.
We tested the Nadex platform and are confident that investors will find everything they need, from technical indicators to free real-time market data feeds. Other customer reviews also confirm this, with many rating the terminal as user-friendly with full access to historical data, plus all the necessary symbols and tools to interpret price action.
How It Works
Getting set up on the platform is relatively straight forward. Simply head to the 'Finder' window on the left of the platform to select an asset. This will bring up a clean selection of expiration time frames to choose from. Note all times are listed in Eastern Time (ET).
Once both the asset and expiry have been chosen, your 'Markets' window will update. You will then be met with price levels available for trading. Normally you can expect around 10 levels to choose between. Nadex binary options range from 0 to 100. The former is when the settled option did not finish in the money, while the latter reflects an outcome that did take place.
Your trading ticket will then confirm:
Bid size
Price level
Expiry time
Current bid and offer prices
You will then need to select buy or sell and specify a trade size. You also have the option to alter the buy or sell price above or below current levels to see if your position will be 'matched'. As a regulated exchange, Nadex will never take the other side of your trade – your order will only be matched by another trader.
Of course, you can close your trades at any time. This will allow you to realize profits or reduce losses. Finally, the figures your ticket displays highlight the outcomes if you allow the option to expire.
Hit 'Place Order'. If matched, you should be able to view your trade in the Open positions window. However, if it is only partially matched, it will be automatically moved to the Working Orders screen.
You will then get an email confirmation with the details of your trade and another when an order is settled.
Assets & Markets
Nadex binary options, call spread and Knock Out™ contracts cover an array of underlying markets, including commodity futures, equity index futures and spot forex rates. Nadex offers day traders the opportunity to speculate on the following markets without owning the underlying asset:
Forex Pairs –  Invest in 11 currency pairs such as the EUR/USD, USD/JPY, GBP/USD and USD/CHF
Commodities – Trade precious metals and energies including Crude Oil, Gold, Silver and Natural Gas
Global Indices – Speculate on a range of global stock indices including the US 500 (S&P 500), Wall Street 30 (DOW), US Tech 100 (Nasdaq), FTSE 100, and Germany 30 (DAX). The China 50 and Japan 225 are also available.
Binary Options
The most popular trading product associated with Nadex is binary options. Access markets 23 hours a day, five days a week. You can hold contracts to expiry or exit early, minimizing losses or protecting profits. This includes the benefit of a choice of expiry times, including intraday, daily and weekly expirations. The best Nadex daily trading pro signals use this range.
But while using Nadex does mean you can start trading on just 5-minute forex or 20 minute stock index binary options, their product range does not include 60-second binaries or similar turbo options, as some competitors do.

Knock Out™
Nadex do add new products regularly, and Knock-out™ contracts are one such addition. Our review shows the Knock-out™ is a contract that allows the trader to speculate on price movement of a market within a pre-defined range. The range is limited by the floor and ceiling prices. Within these levels, the value of the contract will move in linearity with the movement of the underlying market. The micro lot sizes of the new Knock-out™ contracts provide options to trade with low capital requirements. With the built-in floor and ceiling structure, whether long or short, the contracts provide pinpoint risk control.
There is also no slippage and no nasty shocks. This provides the power of leverage with but with managed risk – the maximum risk on any trade is the only capital required to secure that trade. Once the trade is open, the capital requirements never change, even when held overnight, making these contracts as easy to swing trade as to day trade.

Call Spread
Nadex also offers a unique product called "Call Spreads". Simply explained, a call spread is a trading strategy that involves buying and selling call options at the same time. These are offered on a number of markets, including currencies, commodities and stock index futures.
Investors must use bull call spreads or bear call spreads depending on market predictions. Each contract will have built-in floor and ceiling, representing the total potential value of the trade and providing defined maximum risk and profit. The Nadex call spread represents a single unit with short contract durations and is available in small contract sizes.
Let's say you believe that the price of a market such as EUR/USD will rise, so you purchase a Nadex Call Spread contract that expires at the end of the day. The possible outcomes:
The contract expires somewhere between the floor and ceiling. If the indicative price has moved up, you make a profit. If it has moved down, you take a loss. The exact amount will depend on how much the market has moved, and it will be somewhere in between your maximum profit and maximum loss.
The contract expires and the indicative price is above the ceiling. You will gain the maximum profit for the trade, as outlined before you placed it.
The contract expires and the indicative price is below the floor. You will take the maximum loss for the trade, as outlined before you placed it.

Nadex Fees
Trading Fees
Trading fees vary by product type (binary options, call spread or Knock out™ contracts). However, because Nadex is an exchange and not a brokerage, traders can submit their limit orders, for example, directly to the exchange with no broker intervention, avoiding sometimes costly commissions. Instead, Nadex charges a $1 fixed fee per side, per contract (relevant for direct members). This cost reduces with membership tiering, the lowest being a $0.35 charge per side for FCM Member's which is ideal for high volume traders. Full contract specs are detailed on the exchange's website.
When our experts used the Nadex platform, it was reassuring to see that any settlement fees are covered by the exchange if a binary options trade expires worthless. These trading and settlement fees are Nadex's sole source of income. This means they do not trade against their investors. Some suggest this may mean attractive earnings potential as your trading costs are lower.
In terms of payouts, maximum losses and profits are calculated via entry/exit times, as well as the contract type. Payouts can exceed 100% while losses are limited to the amount of capital initially invested. Because you cannot take trades if you do not already have the needed amount in your account, losses cannot exceed deposits. And because Nadex does not participate in trading, the bid/ask spreads in individual markets, as well as the pricing, are determined solely by the participant buyers and sellers.
That said, as a CFTC-regulated exchange, Nadex partners with multiple market makers to ensure viable liquidity and bid/ask spreads.
Non-Trading Fees
While using Nadex, we can confirm there are no membership fees for any account type. Direct Trading Members who have a dormant account, that is, an account that has not engaged in any trading activity for a period of 12 consecutive months, will incur an inactivity fee of $10 per month.
Our experts are pleased with Nadex's pricing structure transparency. As a result, we are confident that traders do not have to worry about a range of hidden fees that will cut into their end of the day capital. Having said that, there is a $25 returned deposit fee. If you do need to pay any other fees, you will encounter clear notices.
So, is Nadex a good exchange in terms of fees? If used carefully, trading with Nadex could well mean you have the benefit of low trading fees, whilst keeping risk levels relatively transparent. However, as is the very nature of day trading, your capital is always at risk.
Minimum Initial Deposit
Nadex requires a $250 minimum initial deposit, ideal for beginners not wanting to risk too much capital at the offset. You can start trading immediately. Nonetheless, this is significantly higher vs IQ Option and Quotex with a $10 initial deposit.
Leverage Review
Nadex does not offer leveraged trading opportunities. Instead, it focuses on facilitating short-term trading strategies using binary options, Knock-outs™, and call spreads. Normally, spot forex traders in the US, for example, can't get better leverage than 1:50.
Nadex spreads are fully collateralized and don't involve margin. They are not a leveraged trading product, but more like a short-term option. However, in many cases the cost of a Nadex spread can be lower than trading the underlying market outright. This low cost of can effectively give you a high reward vs risk.
You also have a certain degree of control, since your maximum risk is capped. The best Nadex trading strategies will ensure this risk management element is at the root of their strategy. Plus you can exit early to further limit your losses. Alternatively, you can seize your profits before the spread expires.
Mobile Apps
When using the mobile compatible services offered by Nadex, we were pleased the new Progressive Web App offering called NadexGO, one of the most comprehensive on the market. Access all the tools you need to trade like a pro, anywhere, at any time. Traders can make use of the fully-featured charts, drawing tools and technical indicators while on the go.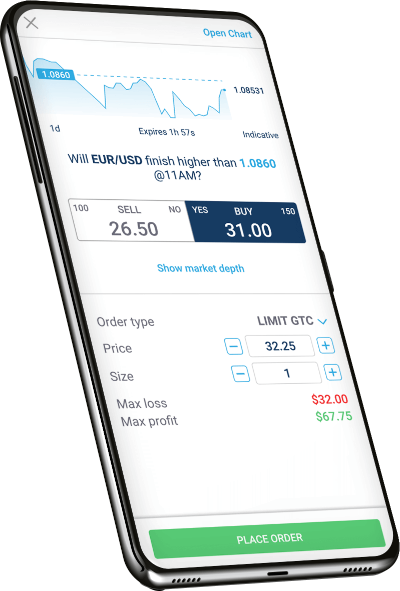 Once we had completed the download of NadexGO, we were pleased with the initial sleek design, with a user-friendly interface and simple navigation. In fact, the dealing ticket trading area looks extremely similar to the desktop platform. Conducting research is straightforward, while setting up alerts is quick and hassle-free. You also get access to the same signals which are free while viewing your order history. On top of that, you can utilize binary options app tutorials to help you make the most of your Apple or Android application.
Overall, our experts confirm that the mobile app provides a smooth transition from the desktop-based platform. Furthermore, NadexGO is actually supported by a browser-based interface which you can open up from within your mobile device. This should help alleviate concerns among traders who worry they won't be able to implement a 20 minute or hourly options strategy effectively.
Payment Methods
Once you have signed up with Nadex, you will need to go about funding your account. Nadex supports several express payment methods for deposits and withdrawals:
Debit card
Wire transfer
Paper check (US residents only)
ACH transfer (US residents only)
Note, bank verification will be required for some transactions and credit cards are not accepted. It is good to see when using Nadex that the firm does not charge any fees for any deposit methods, though third-party charges may apply.
Processing times vary between payment methods, with debit cards offering the fastest solution. Bank wire transfers and paper checks can take between one to five working days for funds to clear.
Users may need to pay withdrawal fees if they use wire transfers, which will cost $25 but are typically processed the same business day. ACH transfers are free but usually take between three to five days.
You can head to your account section to choose a specific payment amount. Also, see their FAQ page for more details on minimum withdrawal limits, proof and any other issues, as these will depend on the payment method and can change over time.
While these payment methods are fairly industry standard, some user reviews do complain about the lack of an option to fund an account or take profits via PayPal.
Nadex Demo Account
Nadex offers a free practice account with access to $10,000 in virtual funds. Once you have your demo login details you can use the same platform and real-time data as those with live trading accounts.
Signing up for a demo account is the ideal way to practice generating profits without having to risk real capital. You can practice scalping strategies, intraday strategies, or any other trading systems.
It is also worth noting there are certain differences between demo vs live trading. For example, a practice account cannot replicate the psychological pressures that come with putting real capital on the line.
If your demo account is not working, you can contact customer support. You can also see the Learning Center for guidance on how to get the most out of the trading platform.
Deals & Promotions
Nadex is currently not operating any bonus or promotional schemes. Unfortunately, user reviews are quick to point out that Nadex often falls short in terms of account promotions and special offers versus other binary options providers. This generally reflects the more professional and trustworthy operation of the brand. Nonetheless, occasionally they will run free trading days and other similar offers.
Keep an eye on the exchange's official website for upcoming promotions.
Regulation & Licensing
As a result of hacks and promises from brokers to make traders millionaires, choosing a place to trade binary options that is regulated is increasingly important.
So, is Nadex a scam? Users can relax in the knowledge that Nadex is a legitimate investing platform. The exchange is regulated by the US Commodity Futures Trading Commission (CFTC). This is a reputable authority, which grants licenses to reliable brokers and financial exchanges. This regulation should also put traders outside the USA at ease too. Whether you are in the US or one of the over 40 other eligible countries including Mexico, Japan or the United Kingdom, Nadex aims to treat all consumers fairly.
The exchange is committed to the highest standard of ethics and conduct, complying with all applicable laws, rules, and regulations. Investors can be assured that deposited funds are held in segregated bank accounts at BMO Harris Bank and Fifth Third Bank and are not commingled with Nadex's operational funds.
Additional Features
When we used the Nadex platform, we were pleased with the extensive resources available. Some tools might also help you earn an income and improve your trading success. Additional tools and services include:
Market data

– Nadex offers real-time indicative price data which closely matches the price of the underlying market. There is no delay. Nadex does not charge an additional fee for data feeds.

Nadex spreads

– They are similar to binary options as they have a maximum possible profit and loss. However, they have a variable payout at expiration instead of the all-or-nothing outcome of binaries.

Advanced charting

– Sophisticated charts and technical tools can be used for developing a range of volatility and volume techniques, including an out the money (OTM) strategy. You could also use candlestick charts, Fibonacci retracements and the MACD indicator to help you build a binary options strategy, with a favorable risk to reward ratio.

News trading – Some traders utilize complex patterns and trading journals to craft and enhance a binary strangle, for example. However, other traders focus on market news and fortunately, Nadex provides daily bulletins, actionable commentary and video on important market events. This content is created exclusively for Nadex by a group of experienced and trusted analysts from a variety of trading backgrounds. The best Nadex trading signals utilize a range of data points.

Education

– From weekly webinars, a key word glossary and online forum to e-books and trading courses – there is a wealth of information to aid your trading growth in Nadex's Learning Center. Topics include how to use a robot for automated trading software, weekly strategy secrets and understanding position limits. On top of that, you could also head online to find forex binary options videos and reviews of strategies to trade stock indices with capped risk in a volatile market environment.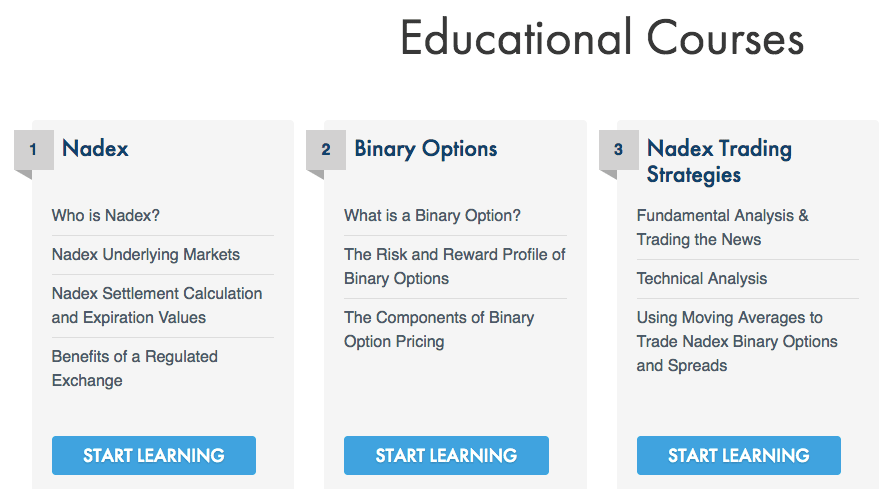 Nadex Account Types
Nadex offers just one live account type, though US investors should apply separately for a US Individual Account. Traders can access binary options trading, call spreads, and Knock-out™ contracts within one profile. The minimum deposit requirement is $250.
When we opened a Nadex account, it took just a few minutes and it was a relatively straightforward process. Simply select the 'open account' logo on the top right of each webpage and follow the on-screen instructions. You will need to provide the following verification information:
Date of birth
Permanent residential address
Social Security Number or National Identification Number
Note, you may have to upload additional supporting documents before you can start trading. You will also need to fund your account.
When you sign up you will also be given information on how to close your account.
Benefits
There are a number of advantages to choosing Nadex:
Management – Managing market orders and quotes are quick and easy on the Nadex system.
Knock-outs™ – The power of leverage but with capped downside. Micro-lots also make them ultra flexible.
Market makers – Nadex has attracted market makers, who may lead to increased liquidity for more and larger traders.
Customer service – We can report satisfactory response times and with the extensive customer service options available.
Fee structure – When you take Nadex vs IQ Option and Cboe, you realize that Nadex offers a competitive, transparent pricing structure.
Demo account – Opening a free demo account is straightforward and can be an effective way to go about understanding Nadex while gaining valuable trading experience.
Accessibility – Nadex welcomes traders from over 40 countries. This means Nadex is a viable option for UK residents, as well as those from the US, Europe, Asia, Australia and beyond.
Regulation – Nadex is regulated by the US CFTC to ensure traders' capital is protected in a number of scenarios. Furthermore, Nadex will have to adhere to rules and regulations specifically designed to protect consumers.
Training – Nadex provides tutorials, user guides, PDFs, ebooks, webinars and a number of other useful resources through their Learning Center. This is a fantastic place to go for aspiring traders who need help developing winning strategies. In fact, their webinars, in particular, can impart detailed guidance on short term trading, scalping with 5-minute binaries, as well as details on crafting an effective ATM or hedging strategy. Not to mention that there is a wealth of trading tips and other strategies information available too.
Drawbacks
Despite benefits, there are some downsides to the Nadex offering:
Order types – Some competitors offer more order types and timeframes and therefore increased choice for intraday traders and longer-term investors.
Promotions & bonuses – Nadex is faulted in options reviews and ratings for not offering special offers and new-customer bonuses.
Difficulty – Although Nadex is beginner-friendly in a number of ways, some users may find their binary options trading service to be more complex than other binary options providers.
Instrument list – Vs other retail brokers, such as Oanda and Stockpair, Nadex does not offer as extensive a range of products. For example, they do not provide one-touch monthly binaries or cryptocurrency coins and Bitcoin trading products.
Nadex Trading Hours
Nadex opening hours will be the same as the asset you are trading. This includes both the regular and electronic trading hours. From Sunday evening until the close of markets on Friday, US Eastern Time, Nadex offers trading 23 hours a day, with an hour off from 5pm to 6pm for exchange maintenance.
If a particular market is closed due to a holiday observance, Nadex will stop trading of that market during the holiday period.
Contact & Customer Support
Our experts were pleased with this customer service component of Nadex's offering. If you have any problems, you can make contact with the brand's customer service agents via email or live chat. Simply head to the home page and then the 'Contact Us' logo for the local telephone number in your location.
Customer support assistants are available via email or phone between 15:00 ET on Sunday to 17:00 ET on Friday. Also, as a result of exchange accounting and other requirements, agents are available 24 hours a day from Sunday at 3 until Friday at 4:30 ET. With this, novice traders who want instant, 24/7 access to customer support may want to look elsewhere. This is a shame because competitors are continuing to increase their customer service offering, with some even facilitating live video chat.
Nadex customer support agents can help you if the website is down and point you towards any legal rules and necessary extensions. They may also be able to explain why an order was cancelled. In addition, trader reviews show agents had a strong technical grasp of the platform and tools.
Note customer service agents cannot advise you on revenue and taxes, including any form of capital gains calculators and reporting.
Safety & Security
With account hacks no longer being uncommon, some traders understandably have security concerns. Fortunately, Nadex has made keeping your capital safe relatively easy. Segregated accounts at top-tier banks keep all client deposits secure. Furthermore, the Nadex group state they utilize intelligent encryption technologies to keep all trading activity and personal information safe.
An even more powerful aspect of risk protection is the capped losses. The most you can lose on a binary options is the amount you paid to enter the trade, since the binary's value cannot go below zero. Since you can never risk more than you have in your account, your losses cannot exceed deposits.
Nadex Verdict
Nadex is a sensible choice for retail investors looking to trade binary options across numerous time frames with powerful trade tools. Their offering also comes complete with a demo account, competitive prices and an extensive Learning Center. However, Nadex does come with certain downsides. Firstly, some competitors offer a more extensive product list. Secondly, Nadex could provide more in terms of welcome bonuses and promotions.
Overall, is Nadex a good choice for binary options traders and does it compare favorably to binary options brokers? Yes, the US based, regulated exchange (not broker) is capable of meeting and exceeding the needs of both novice and veteran traders. But rule 101, you must develop effective options strategies. Failure to do so could result in you effectively gambling and puts you at risk of losing your account balance. However, because of Nadex's capped risk guarantee, you cannot lose more than your deposit.
Accepted Countries
Nadex only accepts traders from United States.