NovaTechFx Overview
NovaTech is a company that provides a crypto and forex trading platform to investors. The company believes they have the best platform in the market. This is despite the company being around for a little over a year.
The company promises clients ultra-low commissions and the best PIP Spreads. However, all this does not matter if the company cannot provide a safe trading environment. There are several aspects you have to look at to determine the legitimacy of a company.
Regulation & Reputation
Novatech, Inc. is incorporated in the state of Nevada. For financial reporting, their fiscal year ends on December 31st.
The biggest red flag about this company is its regulatory status. The company has no regulation from a reputable body. Regulatory bodies keep companies in check to ensure they are not running criminal operations. Therefore, a company without regulation can do anything it wants to.
Furthermore, regulatory bodies ensure that companies have the right banking set up. This ensures that the company can offer funds' safety to its clients. Without regulation, a company cannot assure you of your funds' safety.
Moreover, there is no evidence of systems' protection on novatechfx.com. The company does not present any SSL certification to prove its systems are secure. This means that hackers can easily access and steal your funds. This is a huge red flag.
Account Types
There are six different investment packages on the NovaTechFx platform following the table below:
| | |
| --- | --- |
| Account Type | Minimum investment |
| Builder Package |  $99 |
| Bronze Package | $500 |
| Silver Package | $2,500 |
| Gold Package | $5,000 |
| Platinum Package | $10,000 |
| VIP package | $25,000 |
A PAMM account is a unique product that allows traders to earn without having to trade. You can invest your funds and leave the trading to experienced traders. The company promises to provide the most experienced account managers.
However, the company does not introduce the traders to the public. It is impossible to tell the kind of trading experience that these people have. You should only leave your trading in the hands of experienced account managers. If you cannot verify this to be the case, then do not invest your money.
Deposit/Withdraw Methods and Fees
In the NovaTechFx deposit menu the choice is only between different cryptocurrencies. This is also very indicative that we are dealing with scammers. Cryptocurrencies are the preferred payment method of financial scammers because they do not allow the scammed to ask for a refund.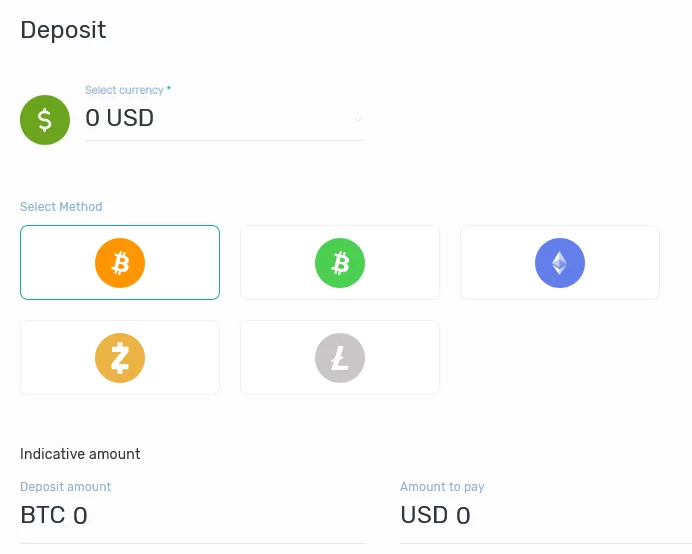 While there are some legitimate brokers that accept digital currencies like Bitcoin, they do so alongside other transparent payment methods such as credit/debit card, bank transfer or popular e-wallets like PayPal, Neteller or Skrill.
There is a clause for refund in the legal documentation of NovaTechFx, but it imposes a huge fee of 20%. NovaTechFx claims it does not charge deposit fees, but does not specify anything about withdrawal fees. Since NovaTechFx does not provide proper legal documentation, it is unclear what traps the fraudsters may have set. Typically, fake brokers make withdrawing money impossible through impossible-to-fulfill traded volume conditions.
Products on NovaT