APrimeXBT is a cryptocurrency and forex broker providing leveraged trading to clients across the world. This review covers the services provided by PrimeXBT, including its trading platforms, crypto predictions, mobile app and supported countries. We will also detail the deposit and withdrawal options, promotional bonuses, fees and KYC verification systems.
Details
PrimeXBT was founded in 2018 in the Seychelles under the name PrimeXBT Trading Services and has since grown into a global brand with clients in over 150 countries. In 2019, the broker opened offices in St. Vincent and the Grenadines and shifted their headquarters location and infrastructure to Switzerland.
The company has over 40 employees, three offices and an average daily trading volume in excess of $540 million. The broker does not currently hold a license with a reputable regulatory agency.
Trading Platforms
PrimeXBT Platform
PrimeXBT provides its own bespoke, browser-based trading platform that requires no download or installation. The platform comes fully equipped with over 50 technical indicators and a full suite of charting and analysis tools.
Clients can place trades and manage orders directly from charts. The workspace is fully customisable and offers a range of visualisation tools, execution methods and trading histories.
Traders can also execute several different order types with the option to simultaneously place stop losses and take profits.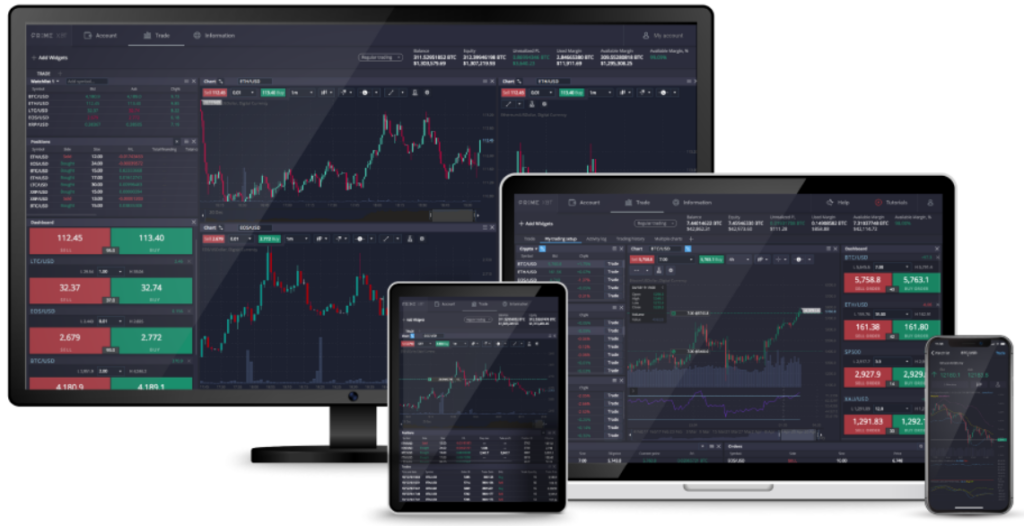 Turbo Platform
PrimeXBT has also developed an intuitive, user friendly fast-trading platform. The Turbo platform allows traders to go long or short on a position for one of three fixed time periods: 30 seconds, 1 minute or 5 minutes.
The short time periods may limit potential profits, but they also reduce downside risk, as the maximum loss is the amount deposited.
The Turbo platform comes with trading histories and a social trading section where you can compete with other investors. However, charting is very limited, with only one basic chart type and no indicators or analysis tools.
Furthermore, there are currently only six tradeable instruments and, despite the social trading leader board, there is no copy trading capability.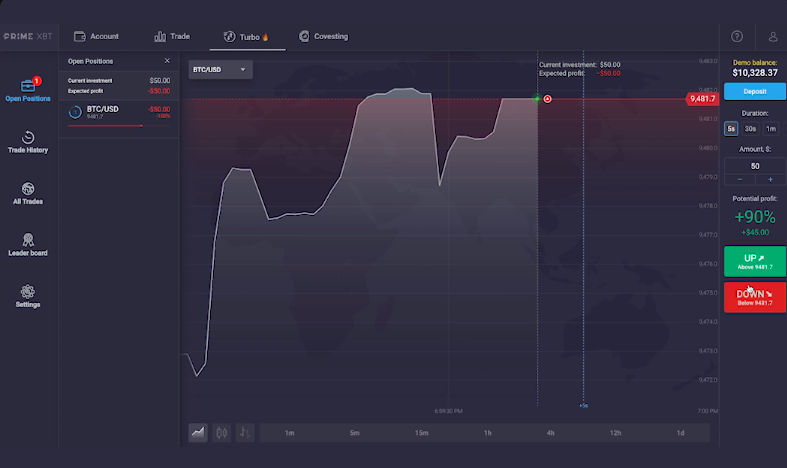 Note, the broker does not offer the popular MetaTrader 4 (MT4) or MetaTrader 5 (MT5) platforms.
Assets & Markets
PrimeXBT pulls away from its competitors in the cryptocurrency exchange industry through its range of asset types extending beyond cryptos. Many of its competitors, BitMEX, CoinBase and ByBit, for example, only offer cryptos as tradeable instruments. PrimeXBT, on the other hand, also offers 18 forex pairs, six major stock indexes, energies, such as crude oil and precious metals, such as gold.
The broker does not offer trading in futures, options, and spread betting.
Spreads & Commissions
PrimeXBT has a transparent fee structure, only charging for each trade and holding a position open overnight. Commission rates for cryptocurrencies are 0.05%, forex and precious metals are rated at 0.001% and the commission for commodities and indices is 0.01%.
Overnight financing charges, often called swaps, are dynamic with the broker and may change from day-to-day. A full breakdown of current financing rates is available in the fees section of the website.
Leverage
Leverage rates at PrimeXBT are very competitive, with crypto pairs offering up to 1:1000. The leverage is variable, however, changing with the trade size. The higher leverage rates are only available for smaller trade sizes, and the maximum leverage is reduced as trade size increases.
Maximum leverage rates also vary with the asset type being traded. 1:1000 is accessible for forex pairs, providing margins as low as 0.1%, though precious metals can only reach 1:500 (0.5% margin) and cryptos, energies and indices only go as high as 1:100, giving a 1% margin.
When comparing to cryptocurrency margin trading exchanges, such as Kraken and Binance, these leverage rates are significantly higher. Covesting accounts have access to maximum leverage rates of 1:200 for all asset types, no matter the trade volume.
Details of the margin call process plus a useful impact calculator can be found on the broker's website.
Mobile Apps
PrimeXBT has developed a mobile version of their custom platform, available for download on iOS and APK smartphones and tablets. The mobile app has almost all the functionality of the desktop web-based platform, with several order options and an impressive array of customisation options to suit any trading preferences. Overall, the iPhone and Android mobile app is a suitable alternative or supplement to desktop trading.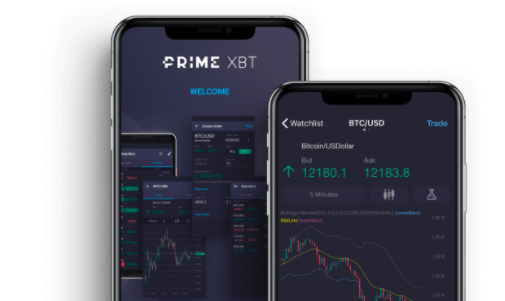 Payment Methods
PrimeXBT deals only in cryptos when it comes to transactions. There is a widget in their deposit section that can be used to buy Bitcoin using a credit or debit card, however this adds a charge of just over 10%. If you already have Bitcoin, depositing into a PrimeXBT account is a simple process.
It may take some time, however, before it shows up in the account because there are six automated confirmations that need to be made for security purposes.
Withdrawing is relatively straightforward, requiring only a quantity and Bitcoin wallet address to be input. PrimeXBT provides address whitelisting, meaning only the addresses that are pre-set may be used for withdrawals. There is a withdrawal fee of 0.0005 BTC.
Demo Account
One notable omission from the standard services provided by cryptocurrency trading brokers is a demo account. PrimeXBT does not offer a virtual account to practice trading strategies and familiarise oneself with platforms, indicators and charting in a risk-free environment.
Deals & Promotions
Although no welcome bonuses, rewards or deposit bonuses are available with PrimeXBT at the time of writing, there may be other monetary incentives for traders to sign up. Check the broker's website for promotional codes and giveaways in 2022.
Regulation & Licensing
The PrimeXBT brokerage exchange is not currently licensed. This unregulated status may ring some alarm bells, but customer reviews are mostly positive with few complaints of the broker not paying out returns. Still, we are hesitant to recommend online brokers that aren't subject to regulatory scrutiny, as it's harder to ensure they're safe to trade with.
Additional Features
Education
There is a range of extra features at PrimeXBT beyond its trading platform. There is an education section explaining markets, order types, trading strategies and how to get the most out of the trading platforms. This is supplemented with a selection of video tutorials and visual guides and a help centre with a fleshed-out FAQ section.
There is also a forex and cryptocurrency blog on the PrimeXBT website, detailing more complex trading strategies and economic news alongside market summaries and analyses. Within the blog, PrimeXBT also makes cryptocurrency, such as Bitcoin (BTX), Ripple (XRP), and EOS, price predictions.
Covesting
PrimeXBT is developing a Covesting module of its trading platform, which is currently in its beta stage. Covesting allows any client to invest in other traders and start their own investment funds.
The module shows top traders and their funds, track records and returns. Each fund is rated by a series of metrics, including daily and all-time ROI and total capital. Traders with their own funds will both receive more capital from investors and gain a percentage of the extra profits.
Account Types
PrimeXBT does not complicate things by offering several account types. Instead, there is only one account providing all the broker's services with no limits based on deposit size and trading volume. The minimum deposit required to open an account is 0.001 BTC.
Benefits
PrimeXBT has several attractive features to entice potential traders, including:
Bitcoin & cryptocurrency trading
Minimum deposit of 0.001 BTC
Very fast execution times ~7ms
Round-the-clock trading hours
Easy sign-up & login process
No personal data required
High leverage rates
Covesting module
Drawbacks
PrimeXBT also has some aspects that could be improved:
Limited deposit & withdrawal methods
Online customer support only
No automated trading
No demo account
Trading Hours
PrimeXBT clients can trade in cryptocurrencies 24/7, as the markets do not close, although it should be noted that overnight swaps will still be charged for positions held open past 23:59 UTC. All forex pairs available with PrimeXBT are open 21:05 to 21:00 the next day, except for USD/RUB, which is open 07:00 to 21:00.
Precious metals can be traded from 22:00 to 21:00. Commodities and indices have a larger variation in trading hours due to local trading hours.
Customer Support
PrimeXBT has integrated a 24/7 live chat service into their trading platform to the lower right of the screen, with several experienced agents always active. However, there is no telephone or offline support which may be frustrating if you have a complex issue.
With that said, the knowledge of support staff is good and they're able to help with a range of queries, from liquidation price and platform maintenance, to account queries and help if orders are rejected.
The broker is also very active on the below social media and can be contacted via email – support@help.primexbt.com.
User Security
PrimeXBT's privacy-based approach requires zero personal information, only a Bitcoin deposit, so the capital that is deposited is all that is risked. With this also comes impressively high cybersecurity standards that are regularly tested and audited to protect client's capital.
There is also the additional option of multi-factor authentication, provided by Google, requiring both the account password and a personal smart device with the Google Authenticator app.
The majority of PrimeXBT's assets are held in a secure, offline security system, with a limited quantity of Bitcoin held in internet-connected wallets for executing trades.
All website traffic is encrypted with secure sockets layer (SSL) encryptions and account passwords are cryptographically hashed, making them unreadable if the website is infiltrated.
Following the collapse of FTX in November 2022, PrimeXBT made clear that it does not use tokens as collateral for fiat money credit lines. The exchange separates customer and business funds and client assets under management (AUM) are not used as collateral.
Verdict
PrimeXBT is a broker to keep an eye on; though new to the scene, it puts a lot of focus on technological development. Creating sleek trading platforms and Covesting modules.
XTB protects its clients not through regulation, but anonymity and cybersecurity. Greatly mitigating the damage that hackers could do and reducing its attractiveness. Fast execution times and high leverage rates help give PrimeXBT an advantage, though its customer support and Turbo trading platform could be improved.
Accepted Countries
PrimeXBT accepts traders from Australia, Thailand, United Kingdom, South Africa, Singapore, Hong Kong, India, France, Germany, Norway, Sweden, Italy, Denmark, United Arab Emirates, Saudi Arabia, Kuwait, Luxembourg, Qatar and most other countries.
Traders can not use PrimeXBT from United States, Japan, Saint Vincent And Grenadines, Canada, Algeria, Ecuador, Iran, Syria, Korea, Sudan, United States Outlying Islands, American Samoa, Russian Federation.
Compare PrimeXBT
Compare PrimeXBT with similar brokers that accept traders from your location. Among available brokers these are the most similar to PrimeXBT: