Skilling.com are a new forex, CFD, stocks and cryptocurrency broker, offering trading via a bespoke browser based platform or iOS and android apps. Our review looks at the platform, spreads, account types and customer service among other things. With an unlimited demo account, traders can take a look first hand before making that minimum deposit.
Part of one of the new generation of online CFD trading brokers, Skilling is a broker with no-nonsense trading in mind. Designed for ease of use, throwing out the jargon in exchange for reliable support, this new-in-2019 platform claims to do trading differently. Read on to find out more about this trading platform, and the online broker behind it.
Skilling.com Company Details
Originating in 2016, Skilling is an online-only broker offering CFD and forex trading across the globe. With multinational offices based in Spain, Malta and Cyprus, the platform offers trading to users across the EU / EEA.
Created with the goal of developing a comprehensive, easy-to-understand trading platform for everyone, Skilling has a team of over 50 dedicated developers, specialists and marketers working directly with their relatively young CFD trading platform to ensure the best possible experience for their customers.
Skilling caters for a broad audience, advertising their trading services as simple enough for beginners while remaining a useful tool for more experienced traders.
Skilling.com Trading Platform
As with many CFD brokers with developers in-house, Skilling makes use of its own specifically-designed trading platform to provide customers with the experience they have devised.
Browser-based, visually simple and easy to use, the Skilling trading platform clearly falls in line with the mission of the company; to strip away the jargon in exchange for easy-to-understand trading information.
Skilling's in-house platform features around 70 indicators, including options such as moving average and MACD, allowing for convenient and quick technical analysis as needed.
A range of chart styles are also available to suit to the visual preference of the trader, plus complete management through the platform itself for accessing trading history, account balances and withdrawal history as and when needed.
Thanks to its browser-based format, Skilling's trading platform is available for just about every computer user, with functionality in every major browser available on the market. Skilling's browser platform also functions appropriately on mobile, but there are also specific iOS and android trading apps.
The most recent improvements included the ability to analyse historical trading patterns versus other portfolios, and the expansion of traders features. Traders now have quicker access to data, more customisable elements, a range of filters and the 'Explore Markets' function – helping traders find the right trades, as quickly as possible.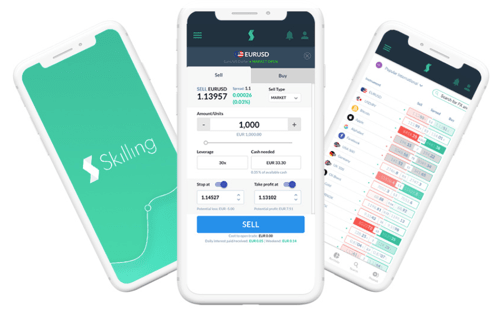 Assets/Markets
Skilling makes a point of offering a wide range of assets for trading, making it a particularly valuable platform for traders looking to dabble in different markets, or explore other options beyond the basics. Skilling currently offers a diverse range of tradable products, including:
Currencies – Over 73 different currency pairs are available through the Skilling platform, including USDCAD, GBPPLN, EURJPY and GBPAUD amongst many others.
Crypto Assets – Including Bitcoin (BYC), Ripple (XRP) and Litecoin (LTC), alongside several other lesser-known cryptocurrencies, all of which are available directly through the Skilling platform.
Indices – Over 15 different indices are available through Skilling, including but not limited to DE30, AUS200, HKComp and SPA35.
Commodities – A varying amount of commodities are available for trade through Skilling's platform, including Gold, Silver, Oil and Gas.
CFD Equities – Alongside Skilling's more physical trading portfolio, there are also over 300 different options available as CFD equities, including Amazon, Apple, Tesla and Uber.
The actual range of trades available from Skilling may vary over time, but the platform has been shown to consistently provide variety when it comes to the trades they offer, making them the online CFD broker of choice for traders looking to increase the versatility of their portfolio.
Spreads & Commission
Skilling.com has started out on the right foot as a newcomer to the market by committing to transparency in the way it prices its trades. Not only is this appealing to beginners, but it can also be a breath of fresh air to long-time traders looking out for something new to try. All commission and transfer fees are communicated clearly and precisely.
With a recently amended model, Skilling now offers spreads from a very reasonable 0.7 pips on standard accounts, while Premium accounts, with a minimum deposit of $5,000+, take advantage of a spread from 0.1 pips, in addition to a nominal value fee of 0.006%.
Skilling has proven consistent with their transparency; making them an appealing option.
Withdrawal fees have recently been removed, so there are no longer any costs for making a withdrawal.
Any accounts that are inactive for longer than 12 months will also be charged a 10 EUR fee, which the platform is transparent about upfront.
Spreads on cryptocurrencies are particularly good with Bitcoin (0.2%) and Ethereum (1.6%) having some of the best. The list of available cryptos to trade has been recently expanded too, with DASH, NEO, Monero, IOTA and EOS added.
Skilling.com Leverage
Skilling keeps things simple when it comes to the trading accounts for its platform, offering two forms of account; the primary standard account and the additional Premium account.
As per ESMA regulations, the maximum leverage for these accounts is 1:30. For higher leverage, experienced retail clients may request to treated as an 'Elective professional' enabling them to trade with higher leverage as per the applicable laws and regulations..
Mobile Apps
Skilling offer the bespoke trading platform on both iOS and android. The applications mirror the browser based platform, allowing for seamless movement between devices and desktops.
cTrader Integration
Skilling.com have also announced the integration of the Spotware 'cTrader' platform. This enables account holders to move between the Skilling Trader platform, and the cTrader platform from a single account.
The ability to operate two platforms from a single account is referred to as the 'One Account. Two Platforms' ethos that Skilling have embraced. Funds can be used to trade on either platform, without the need for two balances.
This will be complimented by further developments on the mobile app throughout the year.
Payment Methods
Skilling offers the usual traditional payment options, offering traders a range of choices when it comes to depositing money into their Skilling account. The minimum deposit for the platform is 100 EUR, GBP, USD or 1000 NOK, SEK for standard Skilling accounts, while premium accounts have a higher minimum limit of 5,000 EUR, GBP, USD or 50,000 NOK, SEK
Payment options supported by Skilling include bank transfer via the Trustly platform, the use of supported VISA or Mastercard Debit and Credit cards, or alternatively ePayment options such as Skrill or Neteller.
New payment methods are added regularly, most recently, Swish and Klarna.
Skilling does not currently support payment through cryptocurrency or other platforms such as PayPal. However, this is standard for many online broker platforms, and as such, it's not a surprise that the payment options are limited to the above.
It's also important to note that there is no additional charge for depositing money into a Skilling account, regardless of the payment method used.
Demo Account
For individuals wishing to try Skilling as an online broker without investing their own cash, the online broker trading platform also offers a demo account, in a similar way to many other modern trading platforms. This demo account is equipped with a virtual balance of $10,000 to allow potential Skilling customers to get a feel for what the platform can really offer.
Skilling is clear that this account is entirely risk-free, and provides a safe virtual location for testing strategies, improving knowledge and introducing newcomers to exactly how trading works.
The demo account is available following sign-up with no expiry date, offering ample opportunity to test precisely what Skilling can do. Interested potential customers can sign up for the Skilling demo via their website, and can easily upgrade from a demo to a standard account by completing account verification.
Deals & Promotions
Due to the stringent regulatory measures laid out by CySEC, it's no longer possible for online brokers to offer any bonus or promotional offers to new customers in EU / EEA countries. This is the case across the board, but Skilling instead places their focus on providing transparency in their payments and functionality in their design, making their platform infinitely more appealing.
Skilling.com Regulation and Licensing
Skilling are fully regulated and authorised under CySEC, the Cyprus Securities and Exchange Commission, which is one of the primary reasons that Skilling is unable to offer any deals or promotions to new or existing customers – such deals are restricted in EU / EEA countries.
In order to broaden the global reach of the brand, they are also regulated by the FSA in the Seychelles.
Skilling also states that they work to protect their investors by conforming strictly to all regulatory requirements surrounding client account segregation.
Skilling also holds an Investor Compensation Fund (ICF) membership, further proving their commitment to meeting the necessary regulations for their customers.
Skilling's online trading platform is protected through a Secure Socket Layer (SSL), ensuring all customer data is fully encrypted before transmission via the internet. This ensures customers are also safe from cybercrime and fraud in regards to both their trades and their deposited money.
Additional Features
Clean, simple and practical in design, Skilling as an online broker is an appealing option for a variety of reasons; not only is it modern, it's also easy to use, and Skilling has included a range of features that further add to the quality of the platform and the usability for traders. Here are just a few of the features included within the online trading platform from Skilling:
The Watchlist
One of the most innovative features available in the Skilling trading platform is the Watchlist, offering a clear and clean dashboard of a range of trading instruments, including their country of origin and their popularity. The addition of a search bar allows for even more functionality. The Watchlist can also be entirely customised by the trader to monitor specific assets or types of trade.
Explore Markets
This platform option gives traders swift access to the most important markets via a range of filters – risers, fallers, volatility and volume lists – exactly where day traders need to look.
Skilling Trade Assistant
The Skilling Trade Assistant is a tool aimed at new traders, providing an easy trade wizard from which they can make trades and learn as they go. The wizard functions by providing visuals and questions surrounding the trading process, allowing the trader to choose what they would like to trade, how they would like to trade it and the full process. Everything is in simple to follow steps, making this feature vital for new traders looking to learn fast.
News
The Skilling dashboard also features a slick and easy-to-follow user interface, including the Skilling Academy for additional learning, in addition to relevant selected news stories to provide further insight into the trading market as a whole.

Account Types
Skilling offers two different account types to their customers via their online trading platform:
Standard Account – the usual account for the majority of traders registering with Skilling, this account requires a deposit of at least 100 €/£/$ or 1000 NOK, SEK to open. The usual spread for this account is 0.7 pips for EURUSD.
Premium Account – this account is designed for professional traders, and usually must be requested directly from Skilling instead of signing up online. The usual deposit for this kind of account is 5,000 EUR/USD/GBP or 50k NOK, SEK.
In addition to the above accounts, a demo account is also available. The full features of the demo account are discussed above, and it can be signed up for directly through the Skilling website, to access a demo account complete with $10,000 with no expiry.
Benefits
The main benefits of Skilling as online brokers, and of using their proprietary online trading platform, is the fact that the company has a very clear vision about how they do business.
Transparency, functionality and practicality are all vital components in what Skilling offers, and while the platform advertises itself as versatile for all types of traders, there are plenty of features geared towards those new to the world of trading, including the trade assistant and the academy.
Recent improvements have included 12 new languages being added to the support list from across the EU, Asia and the Americas.
Skilling.com Browser Based Platform
Another benefit of Skilling is the fact that the platform is browser-based, but also mobile-friendly. This means you can check on your trades from just about anywhere, as long as you have an internet-enabled device with you; whether it's a laptop, phone or tablet.
Skilling also has plenty of versatility when it comes to the types of trades available, from currency pairs to CFDs to commodities and everything in-between, making it an excellent choice for traders looking to add more variety to their portfolio.
Skilling's high regulation by CySEC is another benefit of choosing the platform, as this guarantees their full cooperation with the law. Combined with utilising their own custom-built in-house platform, it's clear that Skilling takes the security and safety of their customers seriously.
Skilling.com Drawbacks
One of the main drawbacks to using Skilling is the fact that, while they make an impression with their modern design and transparent processes, the cost of spreads with the platform is still quite a bit higher than other services on the market – for example, EURUSD sits at 1.7 pips
It's important that those considering the platform should weigh up the cost versus the advantage of a platform that gives a little more hand-holding, especially for those new to the world of trading.
Bespoke vs MT4
One of the issues with in-house platforms, is that traders are limited to what the company gives them. For example, traders used to platforms like MT4 wouldn't be able to use Skilling alongside their favourite interface. Skilling have thought of this however, and have now added MetaTrader 4 integration.
The unlimited demo account does offer the chance for traders to try it for themselves, risk free.
Skilling.com Trading Hours
As an online platform, Skilling is available 24 hours a day, 7 days a week, leaving traders free to access the platform based on their own schedule. This is offered by the majority of online-based platforms, and Skilling is no exception to that rule, even providing customer support with web chat for 17 hours per day, every weekday.
Contact Details / Customer Support
Contacting Skilling.com is relatively easy, with readily available contact details and customer support lines open every weekday, from 8am-9pm. Skilling can be contacted via instant web chat or through the submission of a request in their help desk section. Alternatively, Skilling can be contacted through the following details:
Email
support@skilling.com
Phone Numbers
For HQ Office:
Cyprus +357 2227 6710,
For toll-free telephone numbers:
UK + 44 208 080 6555
Cyprus +357 2227 6710
Skilling.com Safety & Security
As stated above, Skilling is highly regulated via the Cyprus Security and Exchange Commission, or CySEC, under license No. 357/18. Part of this regulation requires a high level of security for investors and traders, and Skilling creates a secure digital environment by providing its clients with an SSL-protected platform. This ensures any and all data is encrypted prior to it being moved online, ensuring that traders' money and details are kept safe.
This is further aided by Skilling's in-house developers and support team, allowing the company to react swiftly should any security issues occur. For companies that outsource, this process may be more difficult, but by using a proprietary platform, Skilling can quickly, and effectively manage security needs as and when they are flagged.
Skilling.com Overall Verdict
Skilling is a platform that tries to be versatile in a growing market but is ultimately best-suited for beginners in the world of trading. While its spread may be higher than some of its competitors, it makes up for this higher cost with some excellent features that provide the insight newer traders need to succeed in the long term.
A wide range of trading options further adds to the appeal of this platform, making it an excellent choice for those looking to get into trading for the first time.
Accepted Countries
Skilling.com only accepts traders from Austria, Belgium, Bulgaria, Croatia, Cyprus, Czech Republic, Denmark, Estonia, Finland, France, Germany, Greece, Hungary, Ireland, Italy, Iceland, Latvia, Lithuania, Luxembourg, Liechtenstein, Malta, Netherlands, Poland, Portugal, Romania, Slovakia, Slovenia, Spain, Sweden, United Kingdom, Norway, China, Russian Federation, Thailand, Cayman Islands, Philippines, Viet Nam.